PREVENTIVE DENTISTRY & TEETH CLEANING IN OGDEN
$79
Exam, X-Rays, & Cleaning*
Welcome to the Torghele Dentistry family! To show our appreciation, we're offering a New Patient Special, which includes a dental exam, x-rays, and a cleaning for just $79! *New patients only. Cannot be combined with any other offers. Excludes panoramic x-ray. 
Regardless of what your smile has been through, Dr. Jeff has the right preventive dentistry options to keep it strong for years to come:
Comprehensive Dental Exams and Teeth Cleanings
Gentle cleanings, exams, and digital x-rays help our dentists identify issues before they turn into problems later. Plus, we provide complimentary sedation during your cleaning upon request!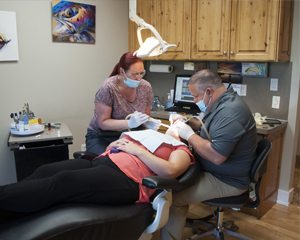 Sleep Apnea Appliances
If you've struggled with wearing a CPAP and are looking for a more comfortable option, then our custom-fit oral appliance may be the right choice.
"A friend of mine snored non stop. He told me that the appliance helped to save his marriage! In fact, when he went out of town and accidentally left his at a hotel, I had to make him a new one right away. His wife loved it!"  
Most of our patients see results the very first night.
Athletic Mouth Guards
If you or your child plays sports, there's always a risk of concussion or dental injury. With sports, oral-facial injuries are a common occurrence that can have long lasting consequences if not treated promptly. Wearing a protective guard can prevent emergencies, like a knocked back tooth from a wrestling match (one of Dr. Jeff's actual cases!), or a knocked out tooth from a collision with the gym floor.
NTI Splints
Are headaches a problem? Our comfortable NTI appliance is perfect for relaxing the jaw muscles and relieving chronic headaches or migraines.
"One of my patients woke up nearly every day with headaches. We made an NTI appliance for her and she wears it each night to keep her mouth slightly open. Her muscles relax and she doesn't have tension headaches anymore."
Whitening for Life
If you're a new patient, be sure to ask about our Whitening for Life plan. After your first check-up and cleaning, keep your visits every 6 months and receive a complimentary whitening tray and refill gel to keep your teeth bright for years.
Has it been longer than 6 months since your last check-up? Call us today to schedule your next visit.