TEETH WHITENING IN OGDEN, UT
Whitening For Life
If You Come In Twice a Year for Cleanings/Exams

Torghele Dentistry takes preventive dental care seriously – and we think you should, too! As an incentive, we're offering FREE teeth whitening for life to those that attend their routine dental appointments! Must come in twice a year for cleanings and exams. New patients only. Cannot be combined with any other special offers. 
A brighter smile can boost your confidence and help your smile look years younger. Dr. Jeff offers two types of teeth whitening treatments. This gives you the flexibility to choose the one that's best for your schedule and cosmetic goals.
Fitted whitening trays provide you with maximum contact for results that are far greater than anything possible with over the counter kits. Our prescription grade whitening gel gently lifts away deep stains caused by things like:
Coffee, tea, or red wine
Medication
Tobacco use
Developmental or environmental factors
Age
Wear your trays for about an hour each day and see full results in under two weeks!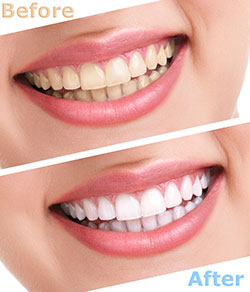 In-Office Whitening
Would you rather make one trip to our office and enjoy significantly brighter teeth in just over an hour? Our in-house whitening treatment is safe, gentle, and effective. No UV light is used. Most of our patients see improvement of at least 3 to 4 shades once we're finished.
In most cases, we recommend whitening before other types of cosmetic treatment – like veneers, bonding, or even porcelain crowns. When you do, it allows us to match your new restoration to the brighter color. Otherwise, if you ever decide to whiten your teeth in the future, your other dental work would need to be changed out so that it would match.–>
ZOOM Teeth Whitening
At Torghele Dentistry, we are excited to now offer Zoom® laser teeth whitening treatment. The laser whitening procedure will take about an hour. However, remember that Dr. Torghele always recommends an exam and cleaning before the whitening treatment so your appointment might take a little longer to make sure you get the best results possible!
Because we're so thrilled to offer Zoom® laser teeth whitening treatment to our patients, we're also offering a $40 mail-in rebate to all of our patients why try Zoom® (additional details in-office). If you're interested in creating a whiter smile, give our office a call and schedule your appointment today.
Free Whitening for Life
New patients – be sure to ask about our Whitening for Life plan! This complimentary bonus is included with all new patient initial check-up visits. Enjoy custom trays and free whitening refills after each 6 month check-up. As long as you keep your appointments – you keep getting free refills – and can keep your smile white for years. It's that easy!
Find out which option is best for your smile by calling Torghele Dentistry in Ogden today.