SEDATION DENTISTRY IN OGDEN, UT
When it comes to patient comfort, Dr. Jeffrey Torghele understands that putting your mind at ease is an important part of dental care and offer sedation dentistry options to relieve that anxiety.  With nearly one out of every ten Americans experiencing dental anxiety, you're not alone if the idea of visiting the dentist makes you nervous.
At Torghele Dentistry, we know that dental phobia can hinder a patient from getting the treatment that they need. When a dental concern isn't addressed, the condition can worsen over time, leading to more extensive and expensive treatment. Dr. Jeff wants to do what's best for you and your smile. That's why we offer sedation dentistry, to help you have a relaxing and comfortable dental experience.
Compassionate Dental Care for Every Patient and Every Need
Does the idea of visiting the dentist leave you feeling a little nervous? Our friendly staff will never cause you to feel embarrassed. Just let us know about your anxiety when you call to make your appointment. We can help you find the sedation solution that's right for you and your needs.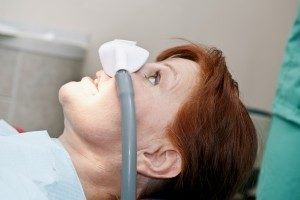 Dental Anxiety Is No Laughing Matter
While your dental fears are nothing to laugh at, the solution just might be! Laughing gas, can make you feel relaxed and at ease. Just by breathing naturally through a soft nose mask, your body will feel warm as your tensions melt away. While you'll still be aware and responsive, your mind will feel floaty and you'll find that your worries have slipped away. When your procedure is over, you'll resume breathing oxygen and the effects of the laughing gas will dissipate quickly. Laughing gas is complimentary during any procedure, even cleanings. Just ask!
Oral Sedation Dentistry
With a simple "happy pill", you won't have to worry about your dental visit. This oral sedative is a wonderful option for stopping your anxiety the moment that it begins to affect you, while allowing you to remain responsive and aware. It acts quickly to address the portion of your brain that triggers and controls your fear response. Your dose can be adjusted to meet your needs and effectively ensure your comfortable, serene dental experience.  
IV Sedation Dentistry
For more extensive procedures or cases of severe dental phobia, you can lightly sleep away your treatment with intravenous sedation. Professionally administered by a licensed anesthesiologist here in our office, you'll be completely unaware of your ongoing oral treatment. This sedative is administered through a vein, allowing you to quickly fall into a "twilight sleep" of complete relaxation.
Why Choose Sedation?
With dental sedatives, you can remain completely calm and relaxed…
If you suffer from mild, moderate or severe dental anxiety
For extensive dental treatments, so that they can be completed in one appointment
For more complex oral procedures
Is dental sedation right for you?  Our friendly team is happy to help with all of your concerns and needs.  If anxiety is keeping you from having the healthy, beautiful smile that you deserve, ask us how we can help! 
Special Care For Special Needs
At Torghele Dentistry, we know that every person is special, but some may need extra time and support from an understanding dentist.
We're experienced at accommodating the unique needs of people with disabilities and limitations. To help you or your child have a relaxed and comfortable dental appointment, sedation may be helpful.
No matter your needs, our wonderful staff is happy to accommodate them to ensure that your visit is a relaxed and pleasant one. Call today and let us help you achieve the smile and dental health you've always wanted.