DENTAL IMPLANTS IN OGDEN, UT
When you need to replace a missing tooth, there's nothing quite like having dental implants.
An implant is like a screw that goes into your bone. It acts like a fake tooth root and your bone attaches to it. After its fused, we place an abutment and crown on top of the implant.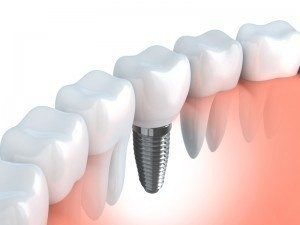 Teeth in a Day
In most cases, the implant process takes about 4 months to complete. However, Dr. Jeff also offers a Teeth in a Day option known as "All-on-4 Dentures" to our patients who need to replace all of their teeth at one time.
If you've been told that you need to have additional procedures like bone grafting or a sinus lift, you'll be happy to know that we offer those right here in-office. There's no need to refer you to an off-site surgical center.
"I once had a patient who was kicked in the face by a cow. It knocked out all of his front teeth. It took just 4 implants to restore his smile back to full health. When he saw them, he was thrilled!"
Crowns, Bridges, and Implant-Supported Dentures
Implants are strong enough to support any number of missing teeth – whether it is one, 4, or all of them. As few as 4 implants can be used to support an anchored denture, and just 2 for a bridge. If you choose to replace just one tooth, your new implant functions as a stand-alone, independent new tooth.
Are dental implants right for you? Call Torghele Dentistry to schedule a free exam and x-ray to find out if they are. We'll also be happy to discuss other options like bridges, dentures, or partials so that you can choose the best one for your smile and your budget. Be sure to ask about our sedation options while you're here!