GUM DISEASE TREATMENT IN OGDEN, UT
Gum disease can destroy your smile, hamper your oral hygiene, and cause bad breath. Fighting it early on is the best way to prevent tooth loss. We offer a number of preventive care techniques, including non-surgical periodontal therapy to help you combat gum disease as efficiently as possible.
Deep Cleanings to Combat Gum Disease
Periodontal disease is a condition that is caused by plaque and tartar buildup under your gums. Because of this, we'll recommend a series of deep cleanings to create a healthy environment that is easy to maintain – combating symptoms like:
Tooth mobility
Bone loss and gum recession
Bad breath / halitosis
Tartar buildup and stain across your smile
How can you know if you have gum disease? During patient exams, we perform a thorough periodontal assessment and series of x-rays to evaluate gum health – so that tooth loss can be stopped before it starts.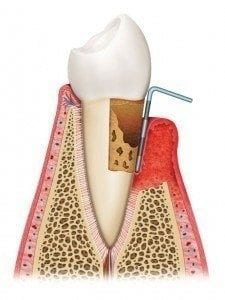 Adjunctive Services
Sometimes, we're more susceptible to gum disease because of the way our teeth are aligned. Dr. Jeff recalls a 65-year-old patient who was being treated for gum disease, but who was facing treatment difficulties because her crowded teeth made it nearly impossible for her to effectively remove plaque on a daily basis. "Straightening her teeth with Invisalign helped her enjoy better oral hygiene and a healthier smile." Whatever it takes – we'll help you get there!
In some situations it may be beneficial to place antibiotic capsules under the gumlines, or place patients on a prescription mouthwash such as chlorhexidine. Dr. Jeff will walk you through his recommendations so that every effort can be made to halt the disease below your gums.
If you're experiencing signs of periodontal disease or haven't seen a dentist in several years – please call Torghele Dentistry right away to schedule an evaluation. Complimentary sedation is available for every scheduled procedure – just ask!
Torghele Dentistry has offered pediatric dentistry services for nearly forty years, with children growing up with our team and bringing their kids.