ROOT CANAL TREATMENTS IN OGDEN, UT
Patients of all ages are welcome at our Ogden family practice. For over a decade, Dr. Jeff Torghele has provided comprehensive general dentistry services like:
Preventive Dentistry
We want to help you avoid needing dental treatment like fillings or crowns in the future. Our gentle cleanings and exams keep your smile in tiptop shape.
We're also able to help you avoid headaches, TMJ pain, and even snoring! Read more about our preventive services to find out about our options like athletic guards and sleep apnea therapy.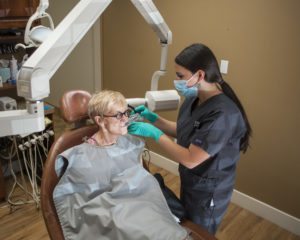 Comfortable Tooth Extractions
Have you suffered from an injury or a large cavity that cannot be restored? Pulling the tooth might be your best option. If it is, Dr. Jeff will comfortably remove the tooth and and then discuss some of our reliable tooth replacement options with you – like dental implants or bridges. Rest assured, an extraction is usually the last option we suggest. We'll make every effort to help you restore your smile before having to say goodbye to your tooth for good.
Wisdom Tooth Removal
Whether you need a simple wisdom tooth extraction or a more complex surgery, Dr. Jeff offers a wide variety of treatment options here in our Ogden office. He also partners with an anesthesiologist who can come into our practice to provide IV sedation if you would rather "sleep" through the entire thing. However, most of our patients do just fine with having the area numbed and enjoying some of our complimentary sedation!
New patients – be sure to ask about our Whitening for Life plan at your first cleaning and check-up appointment with us. It includes a complimentary set of whitening trays and a refill tube of professional strength whitening gel when you keep your 6-month visits. Call Torghele Dentistry today to find out more.